The use of import and export entrustment service is very necessary, especially when you just set up a business to limit risks for your business.
Import-export entrustment is understood as hiring an import-export service business to organize and perform import/export activities for the seller or the buyer. To better understand this form of import and export, please read the article of Peace Logistics.
1. What is import and export entrustment?
Import and export entrustment is a transaction arising when an enterprise wants to import goods to Vietnam or export goods to foreign countries but cannot do it themselves but must go through intermediaries that are entrusted import and export service companies . However, according to the provisions of Decree 187/2013, all individuals and businesses are not limited to goods and services according to their registered business lines, as long as such goods are within the permitted regulations. under the law. Importing and exporting sounds easy, so why do businesses still need to use the import and export entrustment service? Like that, surely like other services, it will bring certain benefits to customers, helping to reduce unnecessary risks.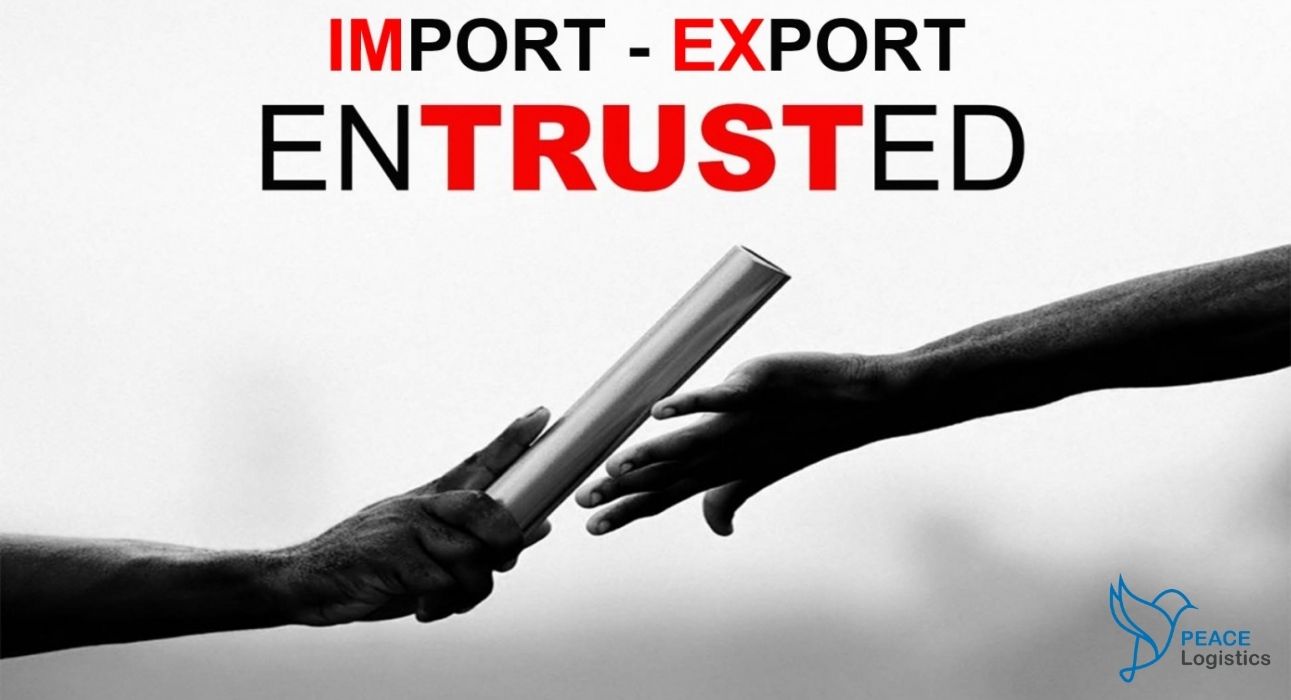 2. Why should you use the consignment import-export service?
Entrusted import and export is a necessary operation when the goods owner wants to import and export goods but does not do it himself but entrusts it through a service company to perform. In other words, this is a form of importing and exporting goods through intermediaries. You may think that hiring import and export through intermediaries is really cumbersome and expensive. However, in reality, using the entrusted import-export service is very necessary, especially when you just set up a business.
Your business does not (or does not) have experience in international trade to be able to carry out the import and export of goods on its own. For example, for a newly established business, the staff does not have much experience in import-export operations, or do not know how to communicate and negotiate with top foreign sellers. At that time, using an experienced import-export service unit is a safe solution to limit risks, at least for the first shipment.
Individuals without legal status cannot sign contracts with foreign business partners. At that time, if you want to import and export goods, you can sign an entrustment contract with an import-export service company to carry out the import/export of goods.
3. Process of import and export entrustment.
Inspect goods and ensure that goods and services are not in the group of prohibited goods and comply with the provisions of law. If the goods are prohibited or suspended from being imported into the country or exported to a certain country, it is useless even if you use an import-export authorization contract. So learn carefully to avoid wasting time.
Should note and discuss with the trustee to apply for a license to import and export goods if your goods are in that category. If it is determined that the type of goods to be exported or imported requires a permit, it is necessary to agree with the entrusting party to proceed as soon as possible. It is best not to let the goods arrive before proceeding, as this will incur warehousing costs or sometimes be refused import or export.
The entrusting party is responsible for carrying out import/export customs procedures as soon as there is a set of goods documents according to current regulations.
4. Why should you use the import and export entrustment service of Peace Logistics?
With 5 years of experience in import entrustment, we provide reliable and efficient import and export services: For small items, we transport items ordered or consigned by customers via company warehouses (domestic and foreign) that are eligible for import in accordance with the law. Help customers have transparent input and output (full import and export documents and invoices) at an affordable price, which is convenient for business and development.
With large import and export items, we are ready to assist with consulting to find partners to buy/sell the items that you need to consult, negotiate prices and sign foreign contracts as well as inspect and advise. Consulting tax fees, completing customs documents.
If your business is in need of using the Import-Export Entrustment service of Peace Logistics, please contact us today!
If you still have difficulties in exporting/importing and want to find out more details, please contact Peace or contact phone number: 0911.529.168 (Ms.Lisa) Or visit the website to update more information: https://dichvulogistics.com.vn/