Peace Logistics specializes in providing diversified and professional freight services to Asian countries by both sea and air. With more than 10 years of experience, Peace hopes that our customers will be satisfied with our service.
1.

Shipping LCL, FCL by sea of Peace Logistics.
We are proud to be the leading provider of shipping services in Vietnam and have a close relationship with shipping lines around the world such as: YML, HMM, ONE, COSCO, OOCL, SITC, MCC, CSCL …
Booking directly with shipping lines specializing in international sea freight such as: Yangming, Kline, Evergreen, MSC, ... with the most competitive rates in the Vietnamese market.
Fast customs clearance. Trucking from industrial parks, export processing zones to Hai Phong and Ho Chi Minh ports with a large fleet of vehicles, ready to assist in picking up goods, pulling empty goods quickly in the night.
A team of experienced voucher staff can provide accurate documents, support for CO, Phyto, etc. With long experience, we are confident to support emergency situations with a professional attitude. to ensure the best interests of customers.
2.

Peace Logistics' main market is in Asia.
Our main markets in Asia include China, Japan, Korea, Taiwan, India, Laos, Cambodia, etc.
2.1. CHINA
China has many large and small ports throughout the country, the seaports are mainly along major rivers. Here, Peace would like to introduce to customers some of the following ports:
Các cảng biển ở Trung Quốc
2.1.1.

PORT OF DALIAN.
Dalian Port is the largest multi-purpose seaport in the North East of China and the second largest transit port of Mainland China. The port is geographically located near other countries in East Asia and North Asia such as Korea, Japan.
2.1.2.

TIANJIN/XINGANG PORT
As the main maritime gateway for the capital Beijing, Tianjin/Xingang Port is the largest port in Northern China, and it is also one of the world's major seaports. Located on the west bank of Bo Hai Bay, in the area of ​​Hai Ha River estuary, the port receives and handles most types of cargo from liquids, bulk cargo, oversized cargo, container cargo, etc.
2.1.3. SHANGHAI PORT
The largest seaport in the world today is China's "Shanghai Port". It is located at the mouth of the Yangtze River with an area of ​​3,619 km2, including a total of 125 berths with a total length of about 20 km. The port receives 33.62 million container units and serves more than 2,000 container ships per month. Shanghai Port handles over 700 million tons of cargo every year.
2.1.4. PORT OF NINGBO
Located to the south of Shanghai port, Ningbo port is also considered one of the busiest seaports of the world maritime industry in terms of cargo tonnage.
2.1.5. PORT OF XIAMEN
The port has the honor of being the 8th largest container port in China and ranked 17th in the world. Xiamen Port, located on Xiamen Island, is the first mainland seaport to have a direct cargo ship to Kaohsiung Port, Taiwan. Xiamen island area, the government also built an international airport, Gaoqi Xiamen
2.1.6. SHENZHEN PORT
Shenzhen Port is the common name of a system of ports in an area of ​​260 km along the coast of Shenzhen city, Guangdong province, southern China, including Yantian, Chiwan, Shekou, Da Chan Bay, Mawan ports. The port is 37 km south of Hong Kong and 111 km north of Guangdong, allocating sea and land traffic during peak seasons and providing timely freight services.
2.2 JAPAN WOMEN

Seaports in Japan
2.2.1. TOKYO PORT
Since 1998, the port of Tokyo officially became an international seaport, capable of handling most of Japan's container cargo. With a remarkable development speed, the port of Tokyo is one of the largest ports in Japan as well as in the world up to the present time. The area stretches over 1,033 hectares of land, connecting popular sea routes from Europe, Asia to the Americas, the annual operating capacity can reach 100 million tons of cargo, equivalent to 4,500,000 TEUs.
2.2.2. PORT OF CHIBA
Located in Tokyo Bay, Chiba Port is the largest port in Japan with an area of ​​24,800 hectares, spreading operations in cities such as Ichikawa, Funabashi, Narashino, Chiba, Ichihara, Sodegaura.
2.2.3. PORT OF YOKOHAMA
The port of Yokohama is located in an industrial area that accounts for 30% of the value of goods imported and exported into and out of Japan along with more than 40 million people living here, accounting for one-third of the country's population. Currently, the port provides functions to handle a variety of goods from container cargo, automobile cargo, oil, grain, etc.
2.2.4. PORT OF NAGOYA
Nagoya is the largest and busiest harbor in Japan. This place is also chosen by the big man in the automobile manufacturing industry - Toyota as a reliable and convenient place for exporting cars, which has made the port a major auto export port. most Japan. The port is used as an international port, handling all types of cargo ships (container ships, bulk carriers, super-heavy ships...).
2.3. INDIA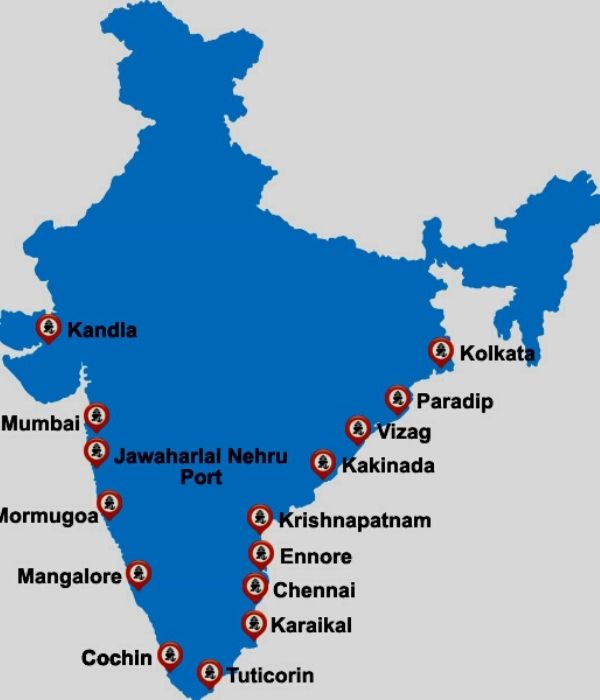 Seaports in India
2.3.1.

KANDLA PORT, GUJARAT
Is the largest port in India by volume of cargo handled. Importing many important commodities such as: Petroleum, steel, textiles, salt, chemicals.
2.3.2. PORT OF MUNBAI
As one of the busiest seaports in India, plays a vital role in enhancing India's economic and trade affairs.
2.3.3. PORT OF MORMUGAO, GOA
It is the main port of Goa, and it is India's leading iron ore exporter
2.3.4. CHENNAI PORT
The Port of Chennai also known as the Port of Madras, is the second largest port in the whole of India.
2.4. KOREA
Currently, the seaports in Korea have a large container volume in and out of the ports, among the top in the world, playing an important role in promoting the national economy.
2.4.1. INCHEON PORT
The port of Incheon is considered the most important port of the country because all business activities on the west coast of the Korean peninsula pass through it.
2.4.2. PORT OF BUSAN BUSAN
Port is located at the mouth of the Naktong River, South Korea. It is the largest transshipment port in Northeast Asia. The port is spread over a length of 26.8km, allowing 169 ships to dock at the same time and can handle 91 million tons of cargo/year.
3. SOME INTERNATIONAL LINE SHIPPING TIME
| | | |
| --- | --- | --- |
| Port of destination | Departure from Cat Lai port | Departure from Hai Phong port |
| Port of Dalian | 16 days | 11 days |
| Port of Shenzhen | 4 days | 3 days |
| Port of Shanghai | 9 - 11 days | 7 days |
| Port of Ningbo | 17 days | 10 days |
| Port of Incheon | 8 days | 7 days |
| Port of Busan | 8 days | 7 days |
| Port of Tokyo | 9 days | 8 days |
| Port of Yokohama | 13 days | 22 days |
| Port of Chiba | 14 days | 15 days |
| Port of Nagoya | 10 days | 12 days |
(The above time table is for reference only)
Shipping cost depends on the destination and destination, in addition, it also depends on the accompanying service you choose.
Above is the basic information about shipping services from Vietnam to Asia by sea. There are many ports in the world that our company has done.
If you have a need, please contact us for the best advice and quote! If you still have difficulty exporting or importing and want to find out more details, please contact PEACE or contact phone number: 0911.529.168 (Ms.Lisa) Or visit the website to update more information: https://dichvulogistics.com.vn/